Device Insight partnership with Eseye speeds-up time-to-market for connected retail vending providers
Munich, Germany / Guildford, UK – Leading IoT platform solution provider, Device Insight, has announced a technology partnership with global IoT connectivity specialist Eseye. That will deliver connected technology capabilities through a single solution, powered by Device Insight's IoT operations and vending services solution and Eseye's AnyNet Connectivity Platform.
The partnership will see Device Insight develop the components and features of the IoT platform, while Eseye provides the necessary connectivity infrastructure within flexible, reliable and scalable solutions for a variety of sectors and use cases. This builds upon the success of Device Insight's and Eseye's joint customer, Costa Coffee's Express connected retail vending solution, powered by both organisations.
Combined know-how for IoT-based smart vending
Eseye will utilise its device expertise and multi-IMSI roaming, eUICC compliant AnyNet + SIM to provide near-ubiquitous managed cellular connectivity, as well as ongoing 24/7 technical support, to ensure that intelligently connected machines are able to provide a reliable service to consumers.
Device Insight's IoT framework unites global IoT devices – connected by Eseye – through platform services that include data acquisition and analysis, visualisation, reporting, condition monitoring and alerts, and remote service and device management. Device Insight combines ready-made IoT building blocks, system integration and software development into customizable, flexible and scalable IoT solutions.
Paul Marshall, Chief Customer Officer of Eseye, comments: "IoT-based smart vending offers enormous opportunities for manufacturers and operators. The combination of Eseye and Device Insight's market-leading platforms and technology offers the perfect solution for retail vending machine manufacturers to rapidly enter the market with a turnkey solution."
Number of connected vending machines will rise to nine million by 2024
According to Berg Insight, connected retail vending is a rapid growth area. The number of connected vending machines forecast is expected to reach nearly nine million by 2024. Coupled with the swift introduction of retail solutions that do not require human interaction, due to COVID-19, vending machine manufacturers and service providers are looking to IoT to drive benefits such as higher asset utilisation ratios, operational cost reductions, and secure and reliable automated card or mobile phone payments.
They are also looking to reduce – or more accurately predict – site visits for repair and maintenance, as well as creating new revenue opportunities, and the ability to offer new services such as consumer personalisation and advertising.
Successful smart vending concepts entail high technological requirements
However, connecting a vending machine in retail presents a challenge because the machine manufacturers, or service providers, typically do not own the shop floor, nor do they have control over the wired and wireless communications infrastructure in which a machine is placed.
This in turn requires a significant effort in maintaining business critical connectivity for payments, telemetry data, and monitoring for ongoing maintenance and data security. To alleviate these efforts, many machine manufacturers opt for cellular connectivity as a means of ensuring reliable connectivity regardless of where a machine is located. But there remain challenges around mobile network selection and the need for continuous network availability.
This is where Eseye's technology enables commercial IoT devices, regardless of where they are located, to remain reliably connected on any network, eliminating the risk and associated costs of those devices being disconnected after deployment. Combined with Device Insight's many years of IoT expertise and proven track record in providing tailor-made IoT solutions both companies are able to offer a joint smart vending approach that guides companies from the planning and development of the solution architecture to deployment, roll-out and management of the solution.
"In Eseye, we've found a partner that is equally passionate about building and delivering a best-of-breed IoT solution ecosystem and providing service excellence. We are looking forward to continuing to help organisations realise the benefits of successfully delivering smart retail vending solutions."
Paul Borrett, Systems and Data Director for Costa Express, at Costa Coffee, concludes: "Eseye and Device Insight's technology has provided a holistic managed IoT platform and connectivity solution with a global footprint. As a result, we can continue to rapidly deploy our connected vending machines to deliver premium quality drinks worldwide, providing Costa Coffee with a real advantage as we continue to expand across international markets."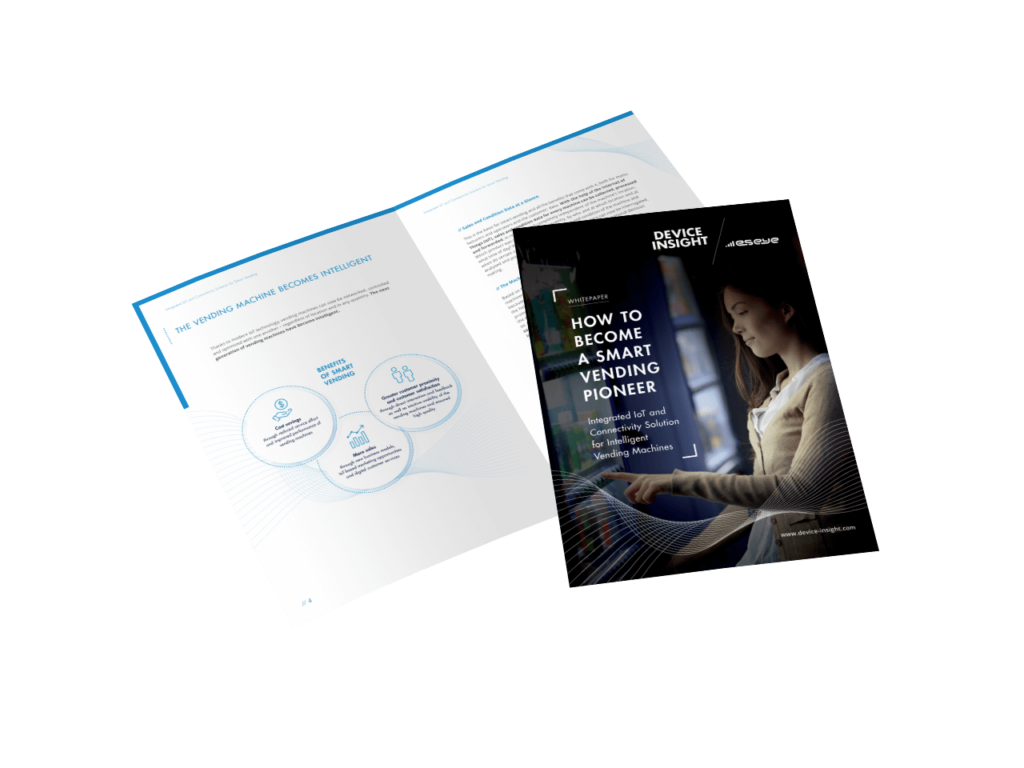 In the free whitepaper you will gain insight into the advantages of Smart Vending and the concrete technological implementation for Costa Express.